Responsibility to Employees
We respect the personality and character of all employees. To enable employees to fully take advantage of their uniqueness and ability, we offer easy-to-work and safe working environments.
Respecting human rights and the promotion of diversity
Our group does not allow any discrimination based on race, ethnic group, religion, colors of skin, nationality (birthplace), age, gender, physical conditions, hobbies, education, social statuses, families or any other characteristic protected by law and are strongly opposed to any act of discrimination by third parties.
Based on the awareness that diverse values are important to respond to ever-changing business conditions and environments, we make efforts to build up an organizational group constituted of diverse characters.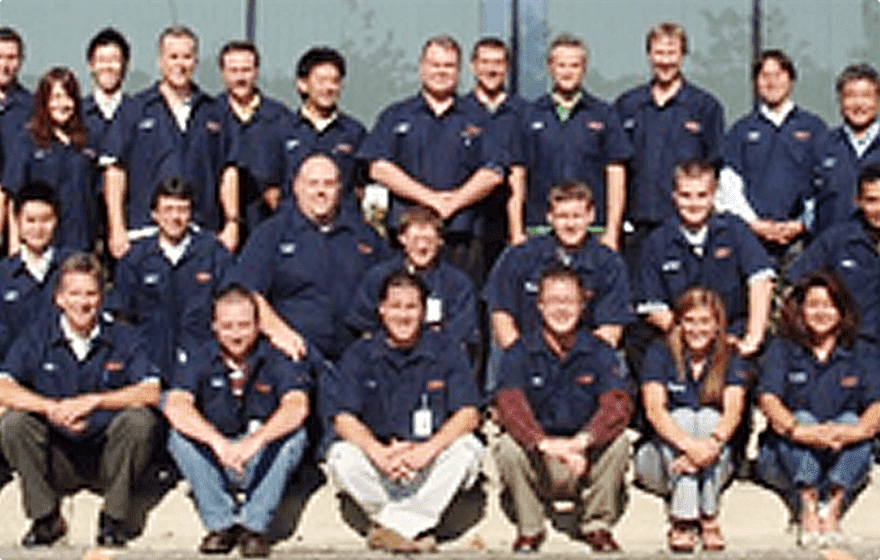 Programs to improve work-life balance
We provide programs that allow time off from work for parenting or nursing care, or shorter working hours with a choice of work times (flextime), so that employees with small children or family members in need of nursing care can achieve an appropriate work-life balance.
Percentage of female employees hired in the last three years
(As of December 1, 2018)
FY 2016
 18%
FY 2017
 17.3%
FY 2018
 19.2%
Percentage of female managers
FY 2016 
1.3%
FY 2017 
1.8%
FY 2018 
1.9%
Promotion of elderly employees
In order to succeed the knowledge, skill, and wisdom cultivated over many years, we introduced a re-employment system of employees after mandatory retirement.
Promotion of the employment of impaired people
As special-purpose subsidiaries, we established STANLEY WELL Corp. and Matsuo Electric Co., Ltd., providing environments where impaired people can work with a sense of safety and security.
Building a sound working environment
Our group has built a sound-working environment where employees can work safely and securely.
Labor-management relations
Management and the union regularly hold consultations, addressing building an environment where employees confidently concentrate upon work, for example, health and safety patrol is conducted with the labor-management association, etc.
Safety and disaster prevention
Each plant conducts training courses on health & safety and an introduction on risk assessment as well as regular checkups by the Health and Safety Committee, addressing the challenge of preventing on-the-job accidents.
The emergency contact network of all employees is regularly updated, establishing an organization to quickly check safety in case of emergency.
Disaster prevention training
Rate of Work-Related Deaths Caused by Industrial Accidents
FY 2016 
0%
FY 2017 
0%
FY 2018 
0%
Whistle-blowing System
Stanley has established an internal whistle-blowing system at an external legal firm in the form of the Corporate Ethics Improvement Proposal Desk. While protecting the whistle-blowers, this Desk investigates reasonable claims and opinions that are reported to it and takes appropriate action.
Employee Health Promotion
Stanley conducts annual health checkups for employees, including mental health checks. If necessary, counselling with industrial health specialists is provided. Employees aged 30 years and over are also encouraged to undertake comprehensive health screenings.
Human resources development and welfare
Based on the human resources policy, "We put priority on human resources with a strong spirit of self-improvement and willingness to study," and in relation to the Stars Plan, a total meritocracy-based human resources system that is fair, convincing, and reasonable and development is being advanced to all Group companies. * the Stars Plan = the Stanley total ability rating system Plan
Human resource development plans
We create development plans for employees based on each individual's ability and aptitude. These plans are used by employees to develop their skills and careers.
These plans include each employee's future goals and current skills and experiences. The ultimate goal of these plans is to systematically and efficiently develop human resources through work experience, training, and personal development, in order to fill gaps toward achieving future goals.
Employees also rotate through organizations and duties according to their development plans to ensure the right person for the right job throughout the company, to promote individual autonomy, and to stimulate and strengthen organizations.
Ability development system
Targeting"ability development that leads to improved ability to accomplish duties," "ability development with priority on character" and the "provision of opportunities for employees with a strong spirit of self-improvement and willingness to study,"we have a complete education and training system.
In addition to class and function based education, we promote and support individual employee ability development such as support for self-development and promotion for acquiring public qualifications. Examples of Human Resources Development Programs New Employee Training
New employee training program
Education Costs per Employee
FY 2016 
¥42,000
FY 2017 
¥56,000
FY 2018 
¥53,000
New employee training program
Based on meritocracy, we evaluate employees by two systems, namely, the ability evaluation system to check the ability to accomplish duties and the performance evaluation system to assess the extent of contribution to business results and performance.
We not only feed back evaluation results to individual employees but also link them to qualification, salary, ability development, and other human relations systems, leading to higher motivation of employees, promotion of ability development and fair treatment.
Exchanges with educational institutions
We partner with domestic and foreign universities and graduate schools for joint research, deepening exchanges with educational institutions and addressing R&D on a wide variety of themes.
Also, to develop human resources who support the future of manufacturing, we dispatch our employees to multiple graduate schools as visiting professors of doctorial courses, host elementary, and junior high school visit to plants and accept university students' internship.
Charge leave system
For the purpose of reinvigorating physical and mental vitality and to promote re-designing of jobs and the development of creativity, we introduced a special incentive leave system to enable employees to take successive holidays of one week for every five years of service and one month for every ten years, which has been taken by all employees. In order to make the leave fruitful, we provide special benefits in addition to regular salaries.