Approach to Traffic Safety
Approach to Traffic Safety
Contributing to the elimination of fatal traffic accidents
at night by using light to make the invisible visible
Stanley's History of Lighting Products and Social Contribution
Stanley began selling light bulbs for automobiles in 1920, when there were around 7,000 to 8,000 automobiles throughout the whole of Japan. For the 100 years or so since then, we have been working tirelessly in research and development to improve automotive lighting systems with the aim of eliminating night-time traffic accidents.

Stanley's first lighting products consisted of glass reflective sealed beams with incandescent bulbs. In the 1960s, the halogen lamp, which is brighter and has a longer life span than incandescent bulbs, was developed and night-time visibility has improved even further.

In 1987, Stanley's developed a revolutionary product, the multi-reflector (MR) headlamp, which added light distribution control functions to the reflector, whereas it had originally served only to collect light. This product paved the way for new technology for the control of light distribution to suit the driving conditions.

In 1996, the light source evolved from halogen bulbs to high intensity discharge (HID) lamps, which offered twice the brightness with the same power consumption. This brought night visibility one step closer to daytime visibility.

In 2009, Stanley's became the first manufacturer in the world to mass produce headlamps with LEDs, something we had been developing for many years, as the light source. The power consumed by LEDs was two-thirds that of HIDs, providing even further progress in energy conservation.

22014 saw the development of the Adaptive Driving Beam (ADB), a system that controls the distribution of light to suit the driving environment. This technology eliminated the driver's dilemma between blinding the drivers of oncoming vehicles with headlamps on high beam and failing to notice pedestrians with them on low beam, making a dramatic improvement in night-time visibility.

We are currently considering adopting lasers as the light source for headlamps. Because this would improve distant vision and enable fine control of light distribution, making what is currently invisible visible, we expect it to provide further improvements in safety.

We believe that, as self-driving cars become common and the electrification of automobiles advances, automotive lighting will also undergo further evolution. Stanley will continue with its challenge to eliminate traffic accidents at night.
All-glass sealed beam headlamp fitted with incandescent bulb
Multi-reflector headlamp
ADB headlamp, incorporating knowledge of human engineering
Laser headlamp
Contribution to elimination of fatal traffic accidents at night
Rate of conversion to LEDs in headlamps
FY 2016 23%
FY 2017 39%
FY 2018 44%
Rate of conversion to ADB in LED lamps
FY 2016 6%
FY 2017 6%
FY 2018 6%
Human factor engineering initiatives
Human engineering is an academic discipline that researches the characteristics of the human body (including psychological and physiological characteristics) and designs systems suited to machines, tools, and tasks that human beings can operate accurately and safely. The basic philosophy of this field is, instead of making humans adapt to the machines, to bring the characteristics of tools, machines, and systems as close as possible to human-centered characteristics.
Human engineering at Stanley involves research with a particular focus on vision and the evaluation of how humans sense automobile lights such as headlamps and stop lamps and exterior and interior lighting fixtures.
Taking part in studies at the University of Michigan Transportation Research Institute, we obtained expertise on analyzing nighttime accident data and performing experiments for objectively evaluating safety, employing this know-how in our assessment of developed products.
As one example, we conducted experiments to determine the optimal LED light spectrum for headlamps, based on ease of night driving and visibility of center lines and other road markings. We then applied the findings to the development of LED headlamp products. We further took part in ADB (Adaptive Driving Beam) development, defining requirements based on the characteristics of human vision and from a human factor standpoint, and conducting evaluation and testing.
Our coming research efforts are not limited to lighting and vision but extend to human senses regarding operability and design, such as the usability of operating panels for car air conditioners. The aim is to develop products that are easier to use based on human characteristics.
We are committed to carrying on with efforts, from a human factor standpoint, to develop excellent products that are even safer and more convenient, contributing to the safety and peace of mind of the public.
Verification of appearance of white lines and road signs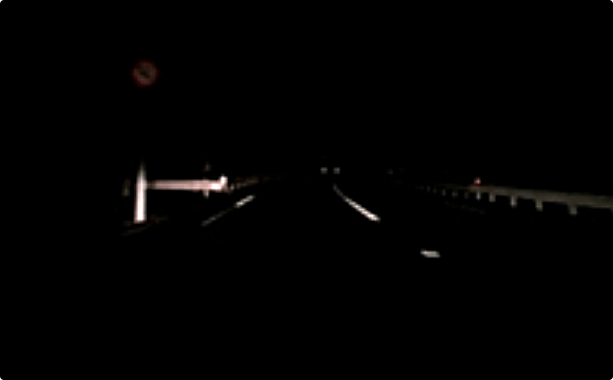 Halogen
HID
LED