Environmentally-Friendly Product Development
HOME

/

Environmentally-Friendly Product Development
Environmentally-Friendly Product Development
Stanley will contribute to the future of humankind and the global environment by creating new value with light
Design for Environment
Life Cycle Assessment (LCA)
Promoting design for the environment through the use of a checklist
In order to promote the manufacture of products designed for the environment we use our Design for Environment Guidelines and apply them to the full range of our product design. We perform evaluations through the use of checklists in order to reduce our impact on the environment to the extent possible.
We revised our approach to evaluating these in FY 2017 and now use a six-item checklist that includes:① energy conservation, ② environmental conservation, ③ reducing, ④ reuse and recycling, ⑤ packaging, and ⑥ provision of information.
What is more, our checklists allow us to determine the CO2 emissions given off in every step from the selection of the raw materials to the manufacturing of the product and its delivery to customers.
Overview of the Evaluations
Evaluations via Checklists As indicated in the figure on the right, we perform quantitative evaluations for different items on a five-point scale in the aim of creating more products designed for the environment.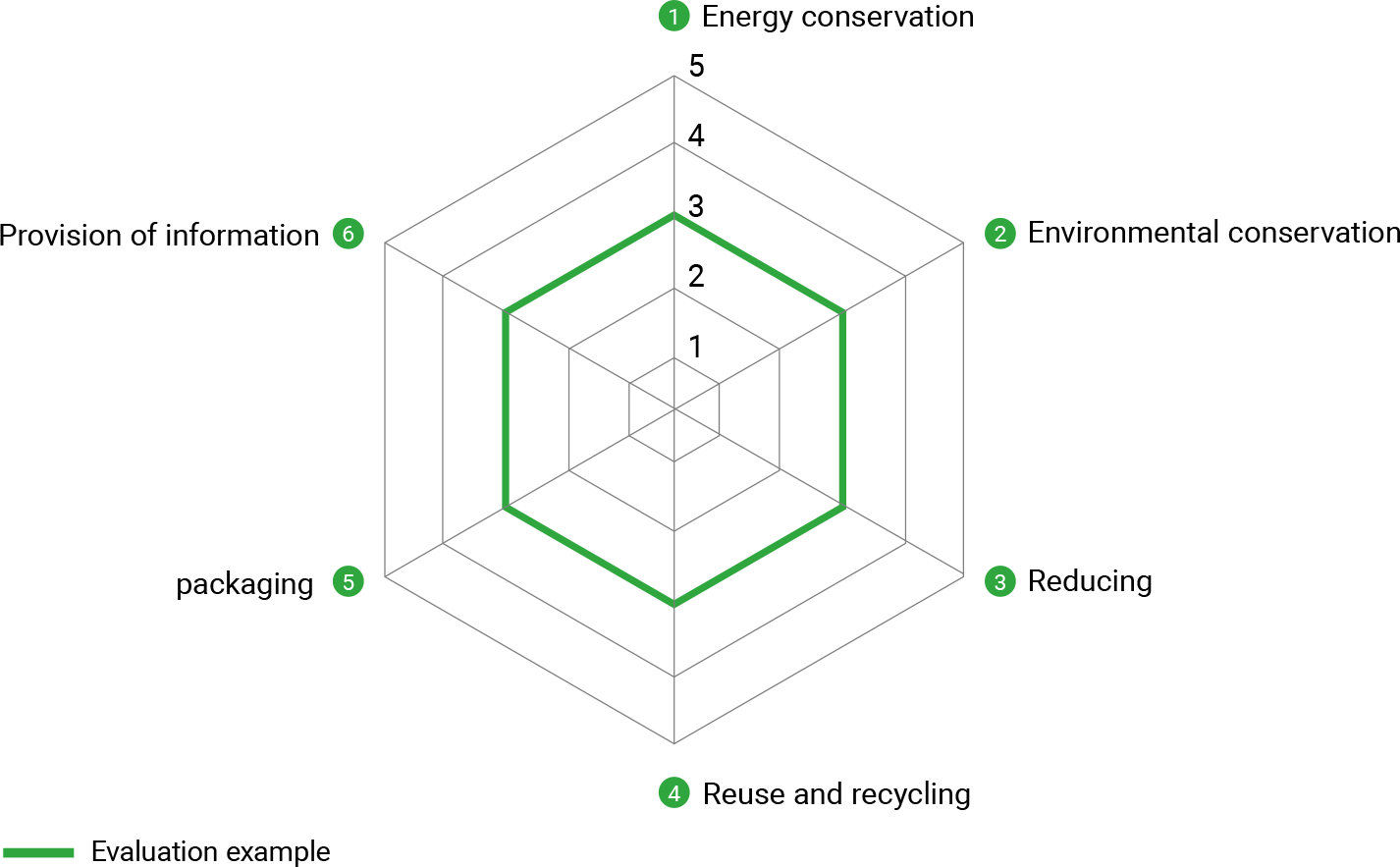 *Supplement to the evaluation items
environmental conservation
We must meet standards like the REACH Regulations and ROHS Directive. But over and above these, we are aiming to meet our own, even stricter, voluntary standards.
provision of information
We disclose environmental items that warrant attention as stipulated by law. On top of this, we aim to disclose information based on the guidelines of industry associations and the like.
Changes in the proportion of products designed for the environment
The percentage of our sales accounted for by products designed for the environment over the past five years is shown in the above graph.
Our share of sales of environmentally friendly products has been rising year by year as a result of the increase in sales of headlamps that use LEDs, and now account for more than 65% of our products.
Products designed for the environment
Size and Weight Reduction
Through research into the materials used and other means, we are engaged in the development of smaller and lighter products that maintain the same levels of product life span and luminous efficiency. These smaller, lighter products are also contributing to the reduction of CO2 emissions, raw material usage reductions, and otherwise helping to reduce our environmental footprint in our manufacturing processes, transport, and end-of-life disposal.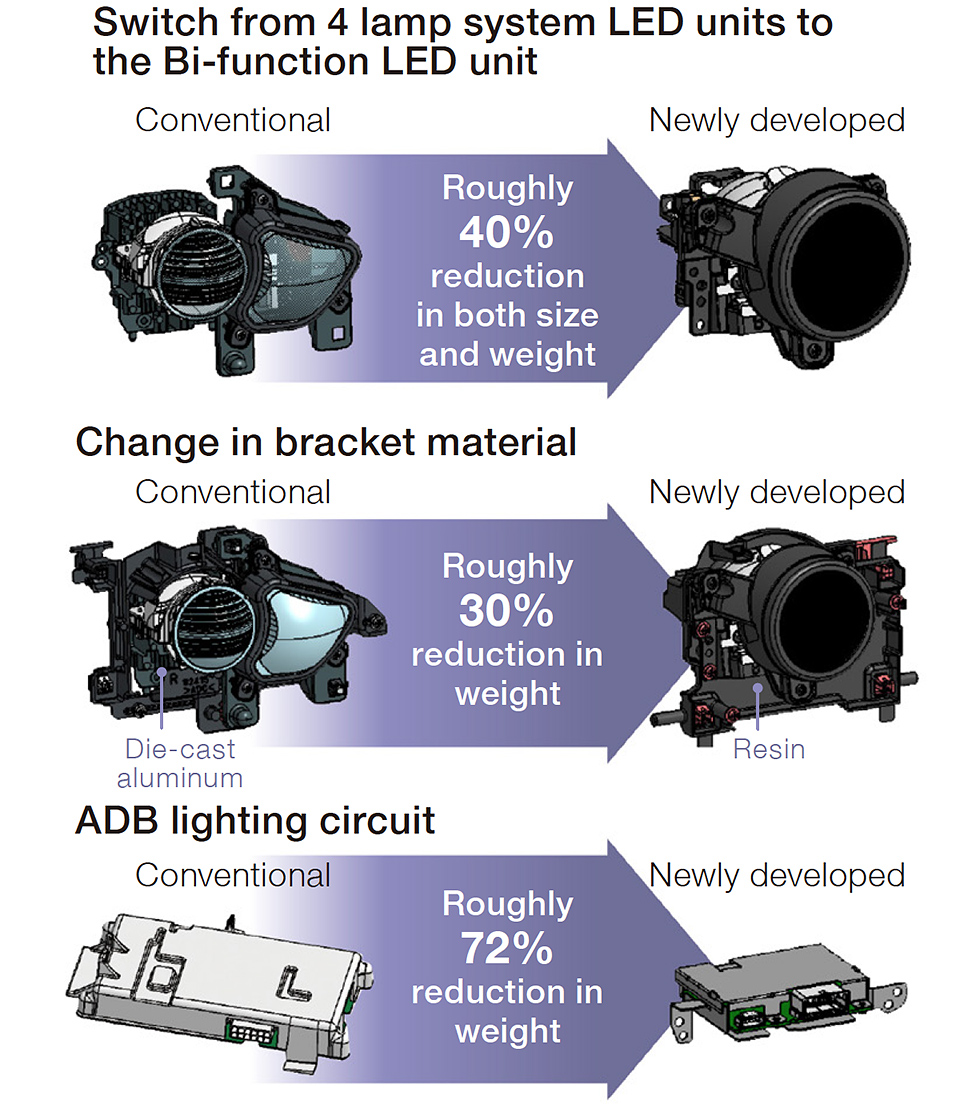 Energy Conservation and Efficiency Improvements
In addition to adopting LEDs as the light source for automobile lamps, we are also engaged in the development of highly efficient, energy-saving products through the use of the light distribution technologies that are our strengths to achieve non-wasteful use of light. Our energy-saving products are helping to reduce CO2 emissions and contributing to the prevention of global warming.
Changes in headlamp power consumption (W/unit)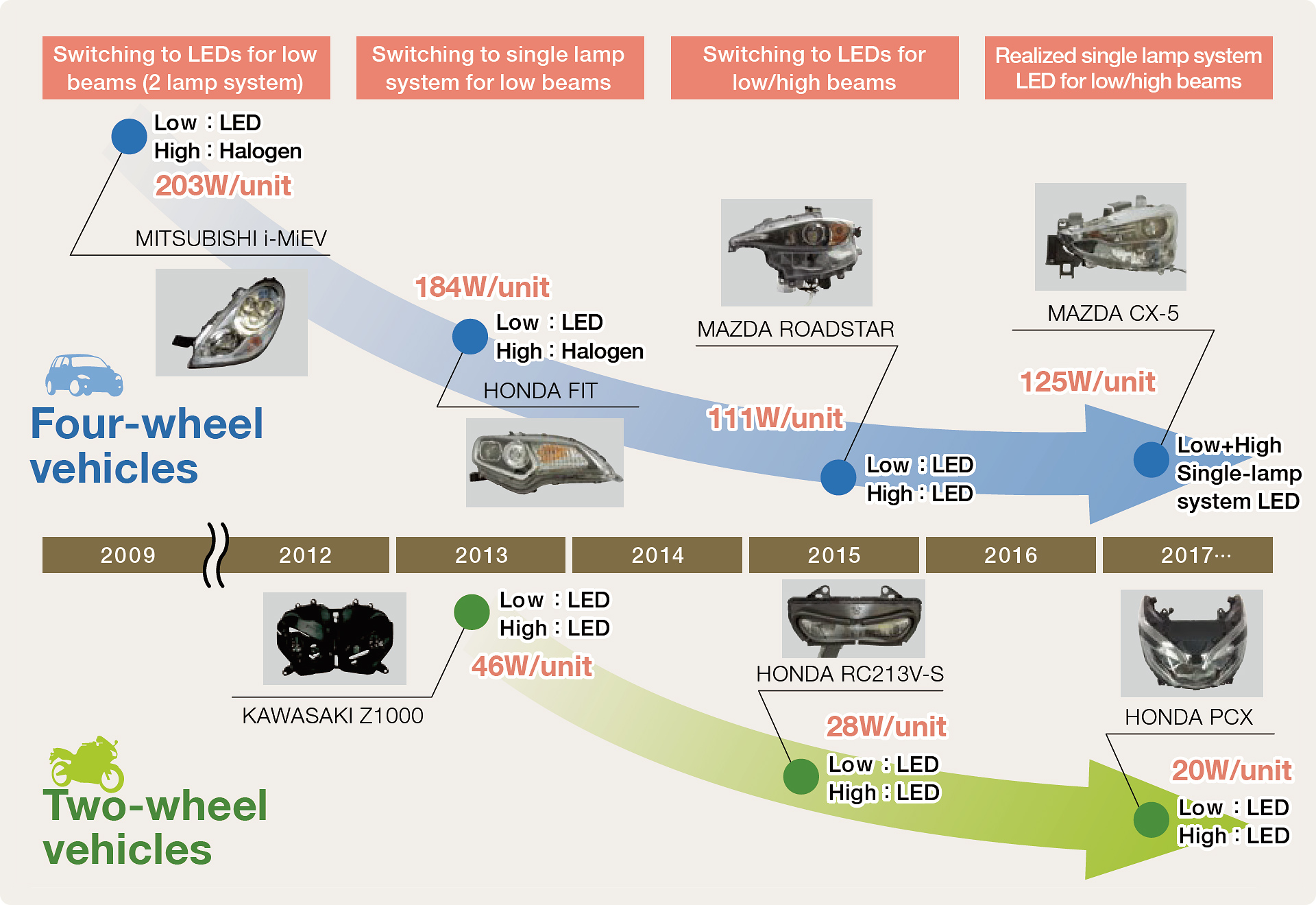 * Headlamp power consumption is measured not just for the low/high beams, but for the headlamp as a whole, including position lamps and turn signal lamps
Reduction in power consumption with LED lamps
-43%
compared with halogen lamps
-30%
compared with HID lamps
Water Quality Preservation Initiatives
Stanley provide safe, secure water through UV sterilization. We are engaged in the development of high-output UV light sources, which have wavelengths that destroy bacteria efficiently. We contribute to water quality preservation through UV-LED and UV-CCL light sources and proposals for reactors and other applied products.
Water Sterilization Product Applications
Bidet-function toilets
Drink dispensers
Faucets and water purifiers