In new employee training at Stanley, new employees spend a year to learn and experience many things.
There are two main purposes. The first is to master basic knowledge and skills as a businessperson at an early stage. Doing this, speed of self-development is accelerated, and the vision of career is expanded.
The other is a deepening of self-understanding. In this way, they cannot only recognize their strengths and weaknesses but also take time to think about what they want to be in the future.
As they are posted after fully understanding themselves and work, we can prevent mismatches with actual assignments.
This training mainly comprises of "unboring" curriculum, "absorbing" menu and a schedule "that raises awareness of growth."
Novel and interesting contents are unrivaled, completely different from popular training courses.
In the age where more than 10% of new employees resign within a year after joining companies, this is an original educational system that yields no dropout each year, which Stanley is proud of.

First step as a working adult. The curriculum is designed so that difficult things can be naturally mastered.
The Stanley Group Vision, the Stars Plan (human resources system,) internal rules, business manners training, marketing/accounting (basic,) quality education, environment education, safety education, basic engineering education, business simulation, SNAP (production innovation) training, English lessons, TOEIC, etc.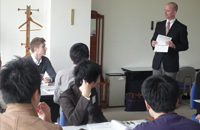 <Sales/factory training>
Have hands-on experience of sales and factory of a manufacturing company. Actual fields of manufacturing that new employees have never experienced will enable each of them to broaden his or her ideas and views of things.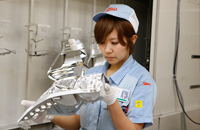 Review of half year (confirmation of self-development)
Participants will be surprised at how much they have grown over a period of six months.
Presentation, logical thinking, PC literacy, quality education, TOEIC, setup of targets for theme training

<Theme training>
More than 100 job description/functional themes. Each participant chooses a theme he or she want to do and address it in the actual workplace.
<Result presentation>
Participants address their own themes and present the results to others.
<Group training>
Active learning training (exertion of independence and team building)
Experience of Stanley golf tournament volunteer operation
*Participate in the Stanley golf tournament, conducted as part of Stanley's social contribution activities, as staff, and learn teamwork and many other things.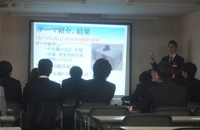 Temporary assignments (OJT)
To prepare for actual job assignments, participants take advantage of what they have learned and master practical knowledge and skills in the field.
March: Group training
Review of the year, thinking about future careers, TOEIC, future target setting, etc.