Initiatives toward Improvement of Customer Satisfaction (Stanley's Manufacturing)
Targeting the ideal production system to "manufacture products required by each customer at the desired time in the necessary quantity," the Stanley Group puts its production innovation activity, "SNAP" into practice.
By thoroughly eliminating "mu-da" (waste) we realize shortened lead times, cost reduction, improved quality and satisfied delivery to win higher trust and satisfaction from customers.
In back-office divisions, we thoroughly pursue operational efficiency and also promote production technology improvement through in-house manufacturing of equipment and R&D of new materials.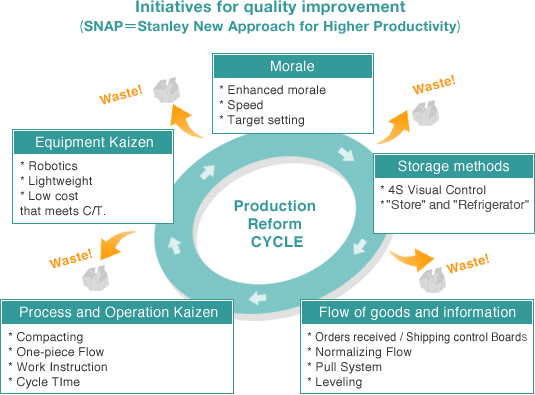 Product Safety
We develop products with due consideration to safety and provide customers with such products. In cases when we receive any safety-related information, we immediately confirm the fact, and if it turns out that any safety issue is present, we report it to the departments and people concerned in house, and take prompt and sincere responses to identify the cause and prevent the expansion of accidents and re-occurrence.
A flowchart of our quality assurance can be found here.